Welcome letter from Linda Ford, CEO - CILEx
Dear Candidate
We have an exciting opportunity for a Director of Education to join our team. Reporting directly to me as CEO, you'll be the executive lead for the Education Board and support me and Institute Board by preparing strategic discussion papers and advising on matters relevant to our role as both an awarding organisation for professional legal qualifications, and as a commercial training provider.
As Director of Education, you will need a willingness and ability to challenge outdated perceptions about the CILEX route and to build awareness and recognition of CILEX qualifications.
We are looking for an individual who has a solid career history having previously managed education functions in the context of a professional membership or regulatory environment and proven track record of achieving policy change, securing funding and commercialising education provision.
Although this is being advertised as a full-time role, consideration will be given to candidates with the required skills and experience to undertake this role on a part time basis and the salary would be pro-rated accordingly.
If you want to explore your candidacy further, please feel free to contact our recruitment partner: Sarah Thewlis of Thewlis Graham Associates on 020 785 4781. She will be happy to discuss the role in more detail.
Full information about how to apply along with the timeline is included towards the end of this pack.
With kind regards,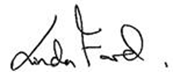 Linda Ford
Chief Executive Officer