Home

/

Younger workers - a chance to connect to the workplace (Age)
Younger workers - a chance to connect to the workplace (Age)
The COVID-19 pandemic has put a major dent in the career prospects of young people. According to research by the Institute for Fiscal Studies, lockdowns will have hit the youngest people the hardest and "threatens to have a prolonged negative economic impact on them as a result. Sharp contractions in shut-down sectors will make it harder for young people to take their first step onto the career ladder, while reduced job opportunities will make it harder for them to move into higher-paying occupations" (COVID-19 and the career prospects of young people - Institute For Fiscal Studies - IFS).
After the financial crisis in 2008 ,the unemployment rate of those aged 18-24 increased faster than that of all adults and the COVID-19-inspired recession has been no exception. The below chart produced by the Office of National Statistics shows the industries hardest hit by this recession were those which, pre-pandemic, were most likely to employ young people.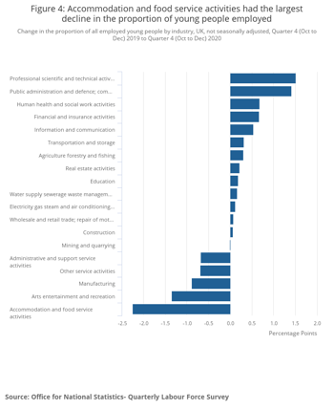 The Hope not Hate charitable trust carried out a survey that revealed two thirds of 16 to 24 year olds said their age group will "pay the economic price for a disease that has mostly affected older people". Those who are unemployed or in low-paid jobs are fearful about their longer term pay and job prospects. The survey found 64% of young people in those groups feeling anxious and states that "in the first stages of adulthood, many are feeling that the pandemic has stolen their future". The analysis warns about the risks of youth disaffection unless the government and civil society act now to safeguard the economic prospects of young people ('Coronavirus has stolen our future' | Youth unemployment | The Guardian).
Why should businesses recruit young people?
Young people may lack experience, both of specific types of work and of the culture of the workplace, but they have the potential to bring other qualities to a business.  The business case for employing a young person is not just about immediate benefits, it is more about the return that employers can receive from a longer-term investment in their workforce. The range of benefits include:
Lower recruitment costs – engaging with schools and colleges can also help attract good quality recruits by building a reputation that encourages young people to apply and thus widening the pool of applicants and reducing advertising costs.
Cost effectiveness – wage costs of younger workers may initially be less than older workers before rising based on experience, qualifications and performance.
Flexibility – young people can be flexible in terms of the hours they work and are more willing to move and work in different locations. Moreover, psychologically, young people appear to have an inbuilt optimism and ability to anticipate and adapt to change.
Improving staff retention – staff turnover tends to be lower as people who have trained with a business are more likely to stay with that business.
Willingness to learn – employers find younger people are more willing to learn. Young people brought up in the digital and internet age have a different approach to working life being more independent, flexible and adaptable to change.
The Chartered Institute of Personnel Development (CIPD) launched their new campaign One Million Chances to encourage employers to connect young people with the world of work through:
Work experience – unpaid placements introduce young people to the workplace and increase their confidence and employability. Students can provide employers with a resource and skills that allow one off tasks to be undertaken for which the business does not have the time or resource, enabling employers to try out potential recruits.
Apprenticeships – provide a cost effective way of recruiting and training young people to gain experience and qualifications to overcome skills shortages. They help ease the school-to-work transition by providing structured training pathways into skilled jobs. There is government funding to assist with the costs and can include current staff members as well as new recruits. More information can be found here

Employing an apprentice: Get funding www.gov.uk

.
Internships – provide the first rung on the ladder to work for undergraduates or graduates (usually) seeking work experience. Students in sixth form colleges, further education colleges or other tertiary education are also included.
CIPD have produced a helpful checklist for employers to provide guidance and practical steps for engaging with these programmes, which can be downloaded here: Employers' guide to youth employment and UK training programmes.
Lizzy Turek
Client Research Associate