Things I did in lockdown - 200 miles in a day for good causes
Thursday, 23 July 2020
Cycling 200 Miles (321 Kms) in a day for good causes.
So on 5th July I woke up when my alarm went off at 3am. I woke up to hear what sounded like a mini hurricane and looked out of my bedroom window to see my garden furniture being blown about and the trees bent double! I finally set off from my house at 4.15am in the pitch black,55 mph winds and rain to start my ride. A 321 kms circular route to Seaton and back to Bristol (It's the equivalent of cycling from Bristol to Leeds)– Why? Well, I am enormously proud to be an Ambassador for two remarkable charities, both of whom are facing distinctly bleak futures due to the dramatic effect of Covid19.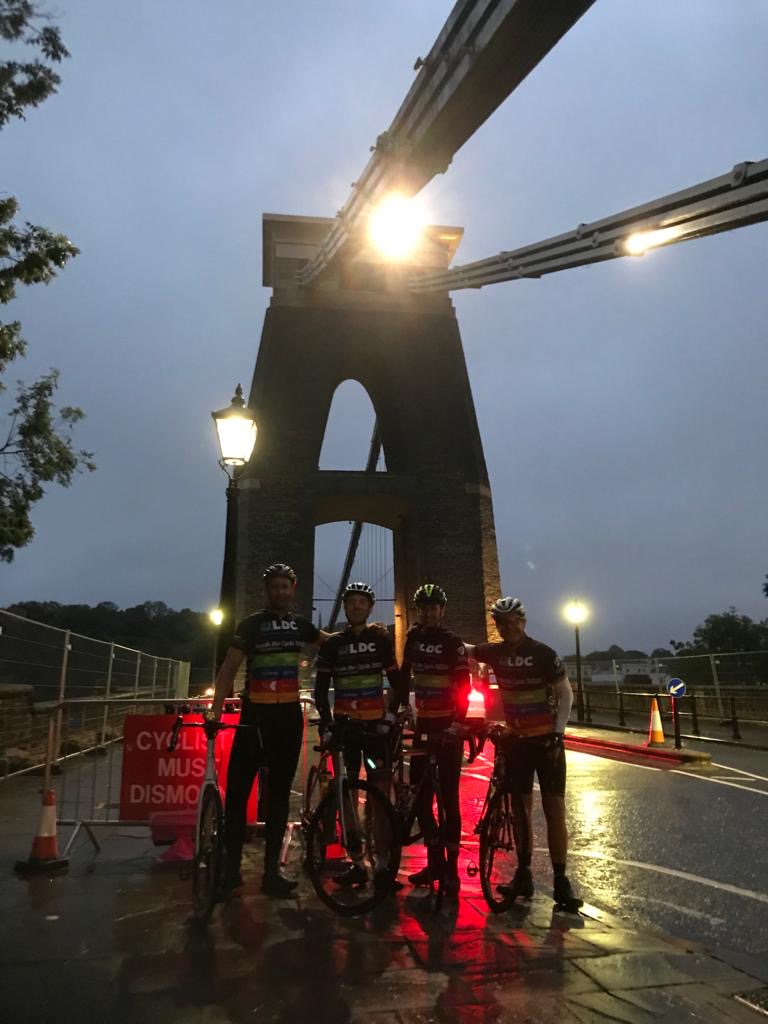 Every little helps as they say so this was my attempt to try and raise some funds so I set my target at £2,000. I thought that if I sent out one of my usual "Hello I'm cycling 60 or 100 miles for my chosen charity type begging emails" it would fall on deaf ears so I knew it had to be a bit more dramatic or headline grabbing, which is when I thought of the 200 mile idea. Once I had mentioned it to a few people (and the charities) there was no going back!
Admittedly I am a keen cyclist but I have never cycled anything like this distance before so it was quite a significant challenge both physically and mentally for me, and I wasn't entirely sure that I could complete it.
I roped in Oli Beckingsale to be my super 'domestique' and companion for the day. For those of you who aren't into cycling Oli is a three times Olympic and 17 times World champion cyclist. When not riding his bike, Oli co-owns BW Cycling in Bristol. 
2 other cycling mates agreed to cycle with us for the first 50 miles to give us some much needed support and a bit of a tow and they assisted us down to Taunton where we waved them goodbye. Thereafter we were on our own; we cycled through Wellington, Cullompton and Ottery St Mary and finally arrived in Seaton around midday and sat down for a hearty well-earnt lunch. We were joined by my wife Jane and my 2 sons who had very kindly given up their day to follow us and be our support team!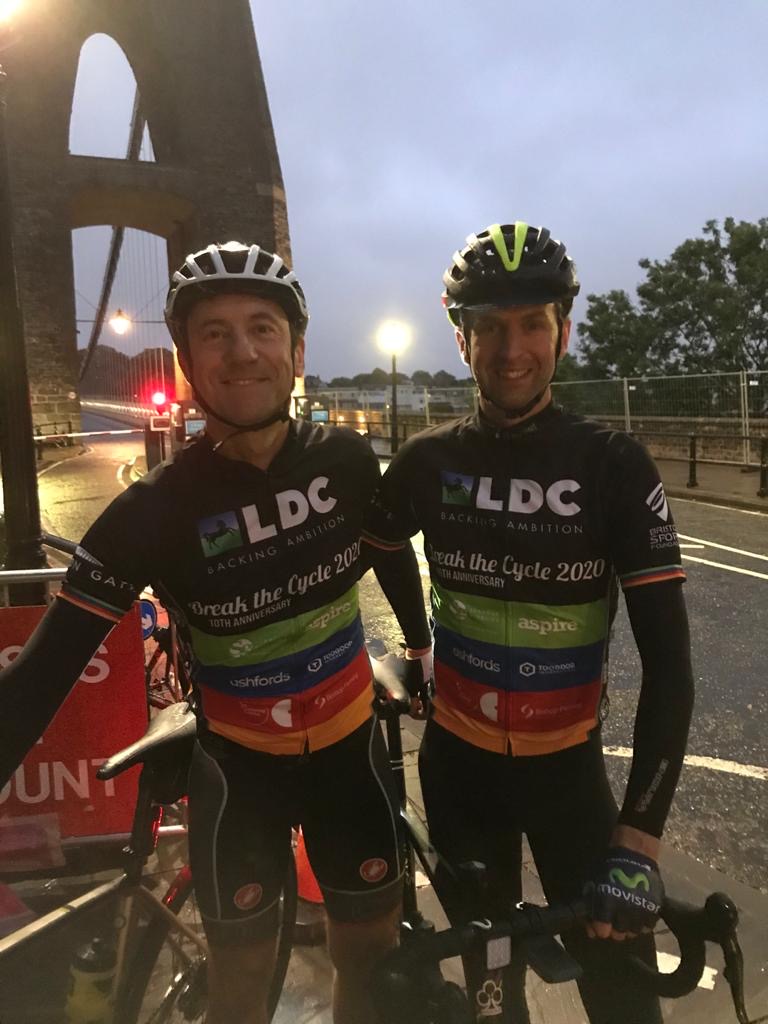 It was important to have a proper rest so we were about an hour and a half in Seaton before we jumped back on the bikes.
Getting back onto the bike my legs felt heavy and it didn't help that there was a long steep hill out of Seaton.  As I set off I glanced at my Garmin cycle computer it dawned on me that Seaton was only 91 miles into the ride so we weren't even half way which was a bit demoralising - thankfully the wind changed direction and the sun came out so that cheered me up.
What didn't help was the final route was a lot hillier than the original one we had discussed, being nearly 9,500 ft of ascent (as opposed to 7,200 ft), Oli said afterwards that he changed the route at the last minute as they were quieter roads, but the consequence was a lot more elevation.
On we pushed through some of the most glorious countryside including Crewkerne and Somerton and stopped for a refuel of coffee and cake in Glastonbury. Then on into Weston Super Mare. By now the winds were really very strong and quite dangerous in parts. As we cycled along the seafront we were blasted by sand and gale force winds which made visibility very difficult and it took a lot of concentration just to not be blown off the bike.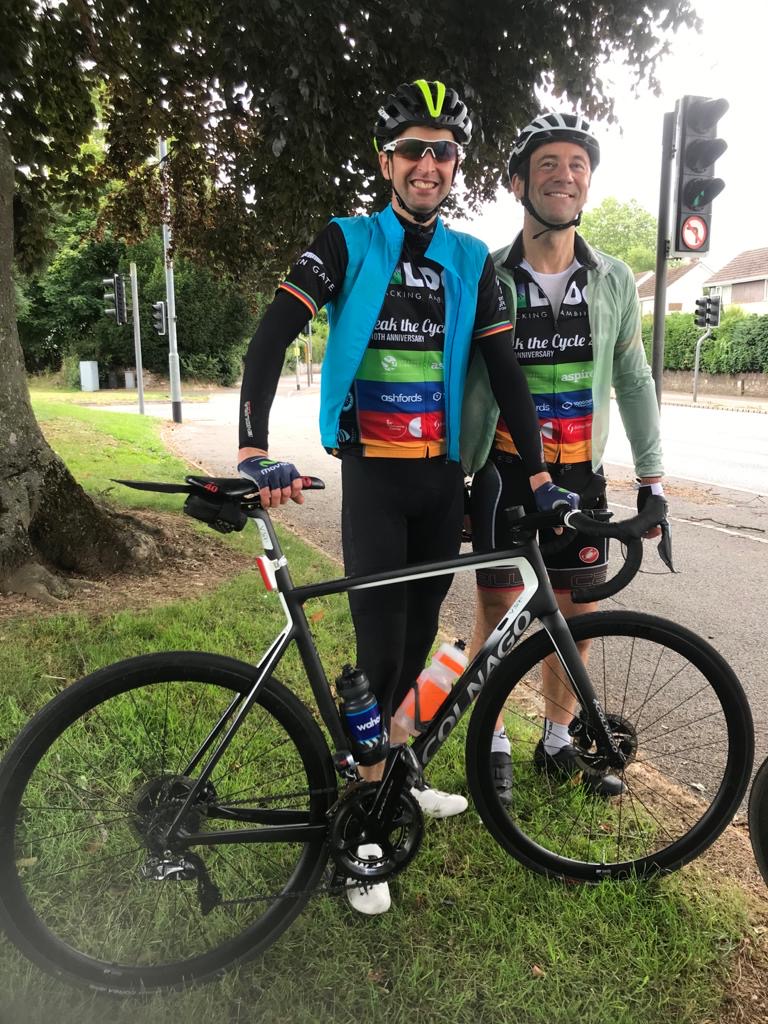 The final leg through Yatton and Clevedon seemed to go on forever but we finally arrived back at the Clifton suspension bridge just after 8.00 pm , then back to my local pub for a pint (or two - I was thirsty!) with my friends. A total ride time of 12 hours overall so not bad ! There's a 2 minute 'Relive' video link below for those who want to see the highlights and a map of the event.
 https://www.relive.cc/view/v26M8pKVVEO 
I was delighted to discover that with Gift Aid I'd raised just under £4,000 which will be split equally between:
1)      FRANKwater - a wonderful Bristol-based charity that provides access to clean water for poor and isolated villages in rural India. I have seen first-hand the difference to these villages Frankwater's amazing work brings. To date Frankwater has helped over 400,000 people in 549 villages access safe, clean drinking water, clean sanitation and hygiene training. Their website www.frankwater.com
     2)  Bristol Sport Foundation - another outstanding Bristol-based charity who are responsible for designing, delivering and funding life-changing initiatives to over 8,000 children every week, using the power of sport to engage and inspire change. It has been awarded eight parliamentary awards for its programmes. One of the main fundraising events 'Break the Cycle' has sadly been put on hold for 2020 - the first time it has been cancelled since its inception 10 years ago.
www.bristol-sport.co.uk/our-community/
And finally thanks to everyone who supported me. A few facts about the ride for those that are vaguely interested: 
201 miles, ride time 12 hrs 05 mins, 9393ft ascent, 4,700 calories burned, average speed 16.6 mph, average heart rate 126 bpm, max heart rate 162. 48,000 pedal strokes. Fuel required: Large porridge, 6 bananas, 7 cans of coke, 2 large bottles of lemonade ,8 litres of water, 8 pork pies, 4 Mars bars, 2 Marathon bars and 2 Lion bars. A whole carrot cake, 6 gels, 5 coffees and a half a bucket of jelly babies - oh and a big bowl of Pasta and chips for lunch.
Peter Gibbons is the Managing Director of Sprague Gibbons, a Bristol based Marketing agency